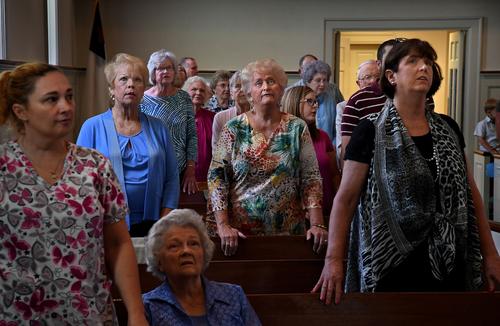 This article—and this passage—has lived in my head, since I first read it, nearly 4 years ago. If you've talked politics with me, I've likely mentioned it at least once.
A Jewish theologian once asked Jesus what the greatest commandment was. Jesus responded by giving his own twist on the Shema.
"'You shall love the Lord your God with all your heart and with all your soul and with all your mind.' This is the greatest and first commandment. And a second is like it: 'You shall love your neighbor as yourself.' On these two commandments hang all the Law and the Prophets."
How do American Christians hear, understand, and follow Jesus's words? Let's check in with some good, Christian, God-fearing folks from rural Alabama.
God, Trump and the meaning of morality — The Washington Post
Linda nodded. It wasn't just Muslims that posed a threat, she said, but all kinds of immigrants coming into the country.

"Unpapered people," Sheila said, adding that she had seen them in the county emergency room and they got treated before her. "And then the Americans are not served."

Love thy neighbor, she said, meant "love thy American neighbor."

Welcome the stranger, she said, meant the "legal immigrant stranger."

"The Bible says, 'If you do this to the least of these, you do it to me,' " Sheila said, quoting Jesus. "But the least of these are Americans, not the ones crossing the border."

To her, this was a moral threat far greater than any character flaw Trump might have, as was what she called "the racial divide," which she believed was getting worse. The evidence was all the black people protesting about the police, and all the talk about the legacy of slavery, which Sheila never believed was as bad as people said it was. "Slaves were valued," she said. "They got housing. They got fed. They got medical care."
Luke tells of a situation in which another theologian quoted the Shema to Jesus, as the qualification for gaining eternal life. Then he wanted Jesus to praise him for how well he was following this commandment and asked Jesus, "Who is my neighbor?" That's when Jesus busted out the story of the priest, the Levite, and the Samaritan.
When Jesus finished telling the story, he asked a question of his own.
Which of these three, do you think, was a neighbor to the man who fell into the hands of the robbers?" He said, "The one who showed him mercy." Jesus said to him, "Go and do likewise."
When it comes to being Jesus's people, there is no distinction between neighbors and American neighbors. There is no distinction between strangers and "legal immigrant strangers." These good, Christian, God-fearing folks from rural Alabama don't know their Bible and don't know the love that Jesus taught, lived, and died for.
If "they will know that we are Christians by our love", what are we to make of this rural, Alabama church that only shows love to people like them, and that disdains and fears everyone else? What are we to make of the great mass of American evangelicals who live like them, love like them, worship like them, and believe like them?