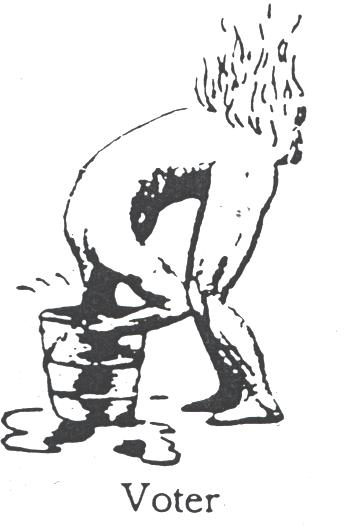 A hypothetical: a friend of yours asks you for relationship advice.
See, he and the gay lover for whom he abandoned his pregnant, live-in girlfriend can't agree on which window treatment they prefer for their new apartment, and despite all the other personal differences they've managed to amicably settle - like your friend's being an Anglican Christian and his lover being a warlock in the First Order of the Antichrist - the issue is threatening to drive a wedge between them, just (this is eerie) as it drove a wedge between your friend's father and his father's own gay lover over thirty years ago.
Now, seeing as how you're a man of God, he says, surely you can give him good advice on how to properly and lovingly resolve the question. Should he (A) compromise on the window treatment issue (even though his lover picked a really icky color) or (B) stand firm, because this is important?
Well? How do you answer?
Believe it or not, the above scenario isn't too dissimilar from some questions I truly have been asked "as a man of God" - although in the worst situation I've ever been presented, the friend asking me for advice was a registered sex offender who quite literally believed himself to be a werewolf and (again, I am not making this up) now found himself blackmailed into a homosexual relationship with a Catholic missionary to Mexico.
In such situations, the base problem is the same: namely, is even bothering to answer at all a good idea? After all, the real problem here obviously isn't your friend's ridiculously petty feelings about household decoration; that's just the smallest symptom of the many, many totally selfish, wrong moves he's been making, each and every one of which dwarfs in importance the issue at hand. He shouldn't be dating someone who doesn't believe in the Christ Jesus. He shouldn't be in any homosexual relationship. He certainly shouldn't abandon the future mother of his child to start one. And he never should have had sexual relations with her in the first place, seeing as how she was not his wife. And - well, let's see here. Anything else?
Oh yeah, wait: and the reason all of this happened in the first place is because despite your friend's declarations to the contrary, he obviously doesn't care what the Christ Jesus thinks of his life.
Well, if you're like me, you tell your friend that the drapes have received way too much attention already and you're not going to give them yours too. Maybe your friend doesn't like this very much, says "If you were really concerned about me, you'd help me", but you answer that if he really wants help, you're perfectly willing to provide it; you'll help him move his furniture out of the apartment, play the part of Best Man at his wedding to the chick, and drive him to church every Sunday. But playing into his delusions won't help him out a bit, so as his friend, you won't do it.
And, if you're like me, you feel pretty much the same way about our country's problems.