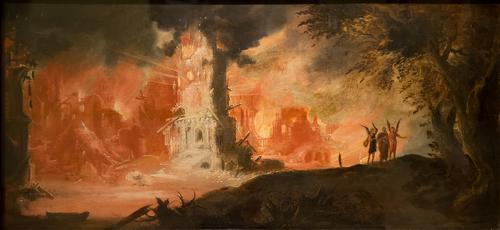 Sodomy. It's when two men have sex, with each other. It's being gay. It's homosexuality. It's a heinous sin. An abomination. God hates it so much that he torched an entire town that was known for homosexuality. That city's sin and punishment were so notable, that the name of the city (Sodom) became the name of the sin: sodomy.
But is that what sodomy is? Or has modern Christianity taken a small part of a larger story, blown it up, and completely hidden the true lesson of the story?
We start with Abram and his nephew Lot. They were both prosperous, with growing households and possessions. They were looking for a place to settle down and found a nice area. They decided to each pick a different homestead. Abram gave his nephew first choice, and Lot chose to settle in the extremely wealthy city of Sodom.
Lot looked about him and saw that the plain of the Jordan was well watered everywhere like the garden of the Lord, like the land of Egypt, in the direction of Zoar; this was before the Lord destroyed Sodom and Gomorrah. So Lot chose for himself all the plain of the Jordan, and Lot journeyed eastward, and they separated from each other. Abram settled in the land of Canaan, while Lot settled among the cities of the plain and moved his tent as far as Sodom. Now the people of Sodom were wicked, great sinners against the Lord.
After they'd been living in the area a good long while, long enough for Abram to pass his 99th birthday and have the new name of Abraham, God sent messengers to visit Abraham and give him an important message. As the visitors left, God decided to check in on Sodom.
the Lord said, "How great is the outcry against Sodom and Gomorrah and how very grave their sin! I must go down and see whether they have done altogether according to the outcry that has come to me, and if not, I will know. So the men turned from there and went toward Sodom."
God gave Abraham a heads up and Abraham, knowing Sodom's reputation, feared that God would destroy the entire city, destroying the good people along with the bad people. Abraham negotiated with God and convinced God to promise that if there were only 5 good people in the city, God would spare the city for the sake of those 5 people.
We now pick up our story, as told in Genesis 19:1–11.
The two angels came to Sodom in the evening, and Lot was sitting in the gateway of Sodom. When Lot saw them, he rose to meet them and bowed down with his face to the ground. He said, "Please, my lords, turn aside to your servant's house and spend the night and wash your feet; then you can rise early and go on your way." They said, "No; we will spend the night in the square." But he urged them strongly, so they turned aside to him and entered his house, and he made them a feast and baked unleavened bread, and they ate.

But before they lay down, the men of the city, the men of Sodom, both young and old, all the people to the last man, surrounded the house, and they called to Lot, "Where are the men who came to you tonight? Bring them out to us, so that we may know them."

Lot went out of the door to the men, shut the door after him, and said, "I beg you, my brothers, do not act so wickedly. Look, I have two daughters who have not known a man; let me bring them out to you, and do to them as you please; only do nothing to these men, for they have come under the shelter of my roof."

But they replied, "Stand back!" And they said, "This fellow came here as an alien, and he would play the judge! Now we will deal worse with you than with them." Then they pressed hard against the man Lot and came near the door to break it down.

But the men inside reached out their hands and brought Lot into the house with them and shut the door. And they struck with blindness the men who were at the door of the house, both small and great, so that they were unable to find the door.
I was taught that the great sin of Sodom was that the men of the city surrounded Lot's house and demanded that he surrender his (male) guests, for the men of the city to rape. The sin of Sodom was rampant homosexuality and God would later utterly destroy the city for that sin.
The ancient Jewish commentaries disagree with that interpretation. The rest of the Bible does too, but I'll start with the commentaries. Why the Jewish commentaries? After all, they're not inspired Scripture. They have their share of just-so stories and outright silliness. But, they do record what the Jewish rabbis understood the Scriptures to be saying, and what people thought the "rest of the story" was. They show a consistent interpretation about what the destruction of Sodom meant—and that interpretation is consistent with the rest of the Christian Bible.
There are four types of character in human beings: One that says: "mine is mine, and yours is yours": this is a commonplace type; and some say this is a sodom-type of character. [One that says:] "mine is yours and yours is mine": is an unlearned person (am haaretz); [One that says:] "mine is yours and yours is yours" is a pious person. [One that says:] "mine is mine, and yours is mine" is a wicked person.
What does it mean to be a "sodom-type of character"? The rabbinic commentaries explain what that means. The Sodomites strongly believed that what was theirs, was theirs. To the point that they turned away travelers, made sure everyone paid their fair share, and forbid charity.
What good are travelers? Talmud, Sanhedrin 109a.12 asks.
The people of Sodom said: Since we live in a land from which bread comes and has the dust of gold, we have everything that we need. Why do we need travelers, as they come only to divest us of our property? Come, let us cause the proper treatment of travelers to be forgotten from our land, as it is stated: "He breaks open a watercourse in a place far from inhabitants, forgotten by pedestrians, they are dried up, they have moved away from men" (Job 28:4).
Everyone must pay their fair share. No one could avoid that. In fact, anyone trying to avoid their fair share was charged double in recompense. Talmud, Sanhedrin 109b.4 records a story of what happened to one traveler who tried to cross a river without paying the ferry. He was beaten for doing so. When he complained to the judge, the judge fined him the extra penalty and told him to also pay the people who had beaten him. Why pay the people who had beaten him? At the time, bloodletting was a medical procedure. By beating him to the point of bleeding, the ferry guards had done him a service!
And they instituted an ordinance: One who crossed the river on a ferry gives four dinars, and one who crossed the river in the water gives eight dinars. One time a certain launderer came and arrived there. The people of Sodom said to him: Give four dinars as payment for the ferry. He said to them: I crossed in the water. They said to him: If so, give eight dinars, as you crossed in the water. He did not give the payment, and they struck him and wounded him. He came before the judge to seek compensation. The judge said to him: Give your assailant a fee, as he let your blood, and eight dinars, as you crossed the river in the water.
The people of Sodom had a unique way of treating guests. One assumes that this was to frighten away other potential guests. Here is Talmud, Sanhedrin 109b.6.
The Gemara continues to discuss the sins of the people of Sodom: They had beds on which they would lay their guests; when a guest was longer than the bed they would cut him, and when a guest was shorter than the bed they would stretch him.
The people of Sodom loved to act generously, but hated generosity. They practiced charity in a way that ensured that it would never cost them anything. From Talmud, Sanhedrin 109b.7.
When a poor person would happen to come to Sodom, each and every person would give him a dinar, and the name of the giver was written on each dinar. And they would not give or sell him bread, so that he could not spend the money and would die of hunger. When he would die, each and every person would come and take his dinar.
The problem with practicing charity is that outsiders might hear about it and come to Sodom to benefit from the charity. Therefore, it was illegal to be charitable. Anyone caught helping poor people would be executed for their crime. Talmud, Sanhedrin 109b.9 explains that this is what caused God to come seeking for any righteous people in Sodom.
There was a young woman who would take bread out to the poor people in a pitcher so the people of Sodom would not see it. The matter was revealed, and they smeared her with honey and positioned her on the wall of the city, and the hornets came and consumed her. And that is the meaning of that which is written: "And the Lord said: Because the cry of Sodom and Gomorrah is great [rabba]" (Genesis 18:20). And Rav Yehuda says that Rav says: Rabba is an allusion to the matter of the young woman [riva] who was killed for her act of kindness. It is due to that sin that the fate of the people of Sodom was sealed.
After reading the commentaries, the story of Lot and his guests looks very different. Lot was a righteous man. He saw travelers in the city and knew well how his neighbors treated travelers. If they stayed somewhere else, they were likely to be tortured in their beds. He urged them to stay with him instead.
The men of the city heard about Lot's generosity and kindness and were incensed by it. They demanded that he hand over the visitors, so that they could rape and terrorize Lot's guests. When Lot protested, the men of the city grew angrier at him and decided to give him the same treatment that they gave to anyone being generous. Lot was only saved by the angels blinding the Sodomites.
The sin of Sodom was inhospitality and extreme greed.
What does the rest of the Christian Bible say about Sodom?
Hear the word of the Lord,
you rulers of Sodom!
Listen to the teaching of our God,
you people of Gomorrah!
What to me is the multitude of your sacrifices?
says the Lord;
I have had enough of burnt offerings of rams
and the fat of fed beasts;
I do not delight in the blood of bulls
or of lambs or of goats.


…

When you stretch out your hands,
I will hide my eyes from you;
even though you make many prayers,
I will not listen;
your hands are full of blood.
Wash yourselves; make yourselves clean;
remove your evil deeds
from before my eyes;
cease to do evil;
learn to do good;
seek justice;
rescue the oppressed;
defend the orphan;
plead for the widow.


…

How the faithful city
has become a prostitute!
She that was full of justice,
righteousness lodged in her—
but now murderers!
Your silver has become dross;
your wine is mixed with water.
Your princes are rebels
and companions of thieves.
Everyone loves a bribe
and runs after gifts.
They do not defend the orphan,
and the widow's cause does not come before them.

That sounds a lot like extreme greed and an attitude of what is "mine is mine, and yours is yours".
The look on their faces bears witness against them;
they proclaim their sin like Sodom;
they do not hide it.
Woe to them,
for they have brought evil on themselves.


…

The Lord rises to argue his case;
he stands to judge the peoples.
The Lord enters into judgment
with the elders and princes of his people:
It is you who have devoured the vineyard;
the spoil of the poor is in your houses.
What do you mean by crushing my people,
by grinding the face of the poor? says the Lord God of hosts.
Again, the sin of Sodom was the rich becoming richer by crushing and oppressing the poor.
Your big sister is Samaria, who lived with her daughters to the north of you; your little sister, who lived to the south of you, is Sodom with her daughters. You not only followed their ways and acted according to their abominations; within a very little time you were more corrupt than they in all your ways. As I live, says the Lord God, your sister Sodom and her daughters have not done as you and your daughters have done. This was the guilt of your sister Sodom: she and her daughters had pride, excess of food, and prosperous ease but did not aid the poor and needy. They were haughty and did abominable things before me; therefore I removed them when I saw it. Samaria has not committed half your sins; you have committed more abominations than they and have made your sisters appear righteous by all the abominations that you have committed.
Ezekiel is writing to the people of Judah, passing along God's judgment on them. What are the abominations that Judah did? I was taught that it was sexual abominations, specifically homosexuality. But Genesis, the prophets, and the commentaries all point in a different direction: it was torturing guests in their beds. It was practicing false charity, while allowing beggars to starve in the streets. It was executing people for being charitable. Those were the abominations of Sodom.
Moving to the new Testament, we see Jesus mentioning Sodom. He does it when He sends out His disciples to evangelize and tells them to depend on the generosity of strangers.
These twelve Jesus sent out with the following instructions: "Do not take a road leading to gentiles, and do not enter a Samaritan town, but go rather to the lost sheep of the house of Israel. As you go, proclaim the good news, 'The kingdom of heaven has come near.' Cure the sick; raise the dead; cleanse those with a skin disease; cast out demons. You received without payment; give without payment. Take no gold, or silver, or copper in your belts, no bag for your journey, or two tunics, or sandals, or a staff, for laborers deserve their food. Whatever town or village you enter, find out who in it is worthy, and stay there until you leave. As you enter the house, greet it. If the house is worthy, let your peace come upon it, but if it is not worthy, let your peace return to you. If anyone will not welcome you or listen to your words, shake off the dust from your feet as you leave that house or town. Truly I tell you, it will be more tolerable for the land of Sodom and Gomorrah on the day of judgment than for that town.
Jesus proclaims judgment on any town that does not welcome his disciples (strangers) and provide for them.
Likewise, Sodom and Gomorrah and the surrounding cities, which, in the same manner as they, indulged in sexual immorality and pursued unnatural lust, serve as an example by undergoing a punishment of eternal fire.
Again: is this 'unnatural lust' a sexual lust? Or is it greed and an unnatural lust for money? Yes, Sodom was sexually immoral. They wanted to rape Lot's guests. But they didn't limit their depravity to homosexual rape. They were clearly ready to rape everyone, both women and men. We know this because Lot offered them his daughters as a substitute. Clearly, he believed that the men of Sodom might accept that peace offering. Their sexual immorality was a weapon that they used to terrorize others and protect their wealth. They used many weapons to act abominably and unjustly enrich themselves. Homosexual rape was just one of their many weapons.
Taken altogether, I do not believe that the "sin of sodomy" is a sexual sin. The sin of sodomy is greed that holds tight to what is mine. It maintains its power through any means necessary. It refuses to give in an open-handed manner. And it resents anyone else who does.
"If you have ears, hear!"
(I first read this information on Patheos: We are Sodom. Me being me, I wanted to seek out the original sources. And that's how you get this post. Thanks also to Mendy Kaminker and his essay Sodom and Gomorrah: Cities Destroyed by G-d - Chabad.org.)