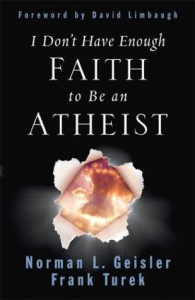 _Posting a wee bit early, 'cause I'm packing tonight and traveling tomorrow. _
We may be able to get away with speeding through Chapter 2 in no more than three posts. Most of it's just Geisler and Turek explaining the various reasons people have for believing religious claims and why the only good reason to believe a theory is because it best fits available data. They won't get any argument from me there.
If I were a less contentious man, in fact, we could probably skip this chapter altogether, since there's no point within it directly relating to G&T;'s 12-step argument that I'm unwilling to accept. But as they set out their perfectly sound arguments for why we should uphold only logical beliefs, they also touch on a few ideas held by "fundamentalist" Christians which are not only worth discussing, but also just kinda stick in my craw. So I'm going to take this opportunity to shake my fist at them.
ULTERIOR MOTIVES
The first of these ideas is that atheists choose not to believe in God for what Geisler and Turek refer to as "volitional" reasons, i.e. personal motivation.
"Many beliefs that people hold today are not supported by evidence, but only by the subjective preferences of those holding them. As Pascal said, people almost invariably arrive at their beliefs on on the basis of proof but on the basis of what they find attractive." (54)
They say something similar back in the introduction:
"Although few would admit it, our rejection of religious and moral truth is often on volitional rather than intellectual grounds - we just don't want to be held accountable to any moral standards or religious doctrine." (36)
It will not surprise you that they are referring to atheists. They (and the majority of Christians, in my experience) believe that:
"Belief requires assent not only of the mind, but of the will. While many non-Christians have honest intellectual questions, we have found that many more seem to have a volitional resistance to Christianity. In other words, it's not that they don't have evidence to believe, it's that they don't want to believe." (30)
Let me just say here and now that this is utter stercus tauri - and a case of what psychologists call "projection" if ever there was one.
If anyone has the motivation to will themselves into believing something untrue, it's the Christian, not the atheist.
PASCAL'S SCALE
Geisler and Turek mentioned Pascal earlier. Let's go back to him.
As you probably know, Pascal is famous for his rather calculated decision to embrace the tenets of Christianity. He said that one should be a Christian because if you turn out to be wrong, you've lost far less by living the life of a Christian than you're bound to lose if you end up a mistaken atheist. After all, the Christian stands to lose some opportunities for fun and a portion of his income, but the atheist stands to lose eternal life (or rather loses the chance to enjoy it somewhere other than in a fiery netherworld).
Though most atheists (and Christians) reject his appraisal as an unsound reason to join a church, there can be little doubt Pascal correctly valued the respective promises of the two world views. By no remotely sane calculation are atheists more optimistic about the future than Christians. Whatever freedoms atheists gain by rejecting religious regulation of his lifestyle, they do surrender far greater benefits (or the promise of them) in return. They lose the comfort of having a great celestial guardian over them who will one day right every injustice they suffer. Instead they have to simply suck it up when faced with this world's evils, even though crimes are a thousand times more terrible to behold when your world view allows for the possibility the perpetrators might never be punished and their victims never compensated. They also lose the easy answers to the existential dilemmas that bedevil everyone else on the globe. Atheists have to decide for themselves what their dreams are, then run the risk of failing to obtain them in this life - with no hope of a second chance in another.
And oh yeah, did I already mention...? THEY HAVE TO RESIGN THEMSELVES TO DYING. That's an absolutely traumatic experience which the majority of Christians can't appreciate. Their theology neuters the concept.
The supposed sacrifices entailed in converting to Christianity - "[changing] thinking, friends, priorities, lifestyles, or morals" (30) - are a clear joke in comparison. They're also greatly exaggerated. When Norman Geisler writes "Christianity is free, but it can cost you your life" (30) I can only imagine he's thinking of Christians who live in the (non_secularized_) parts of the world extremely inhospitable to their presence. Those Christians, however, are a comparative minority, and the dangers they face are not unique - or even typical - to Christianity. In fact the great majority of Christians live their lives basically unmolested, in the comparative safety of their like-minded communities, living lives not vastly different from their fellow countrymen.
Now, you can say Christians who live unremarkable lives are wrong to do so. You can say they are not living up to Jesus' example. For the purposes of this discussion, that only strengthens my argument. It says quite a lot that atheists are unwilling to convert to even a supposedly watered-down version of Christianity, one divested of its most unattractive qualities.
Let me add also, concerning the so-called sacrifices involved in becoming a Christian: having to "[change] thinking, friends, priorities, lifestyles, or morals" (30) isn't only a problem faced by the religious convert. Every atheist who has "deconverted" from his or her faith, like myself, has had to make the same changes. What's more, new atheists don't necessarily have a ready alternative to their religious community available. Whether or not you believe Atheism is just another belief system, it's certainly not just another religion. No unified community of atheists really exists, much less an institution central to the life of every atheist, a la the Christian's church or the Muslim's mosque. This can make it much more difficult to meet new friends with similar views.
So can we toss the idea right now that your average atheist is simply shying away from the great burden under which Christians must struggle for the sake of Christ?
DOUBLETHINK
Actually, I doubt very much we can. Toss the idea, I mean.
The fact is, most Christians already understand the majority of what I've just written, and they speak often amongst themselves about how horrible it must be to not know Jesus. Shoot, evangelists among them talk to nonbelievers about it. It's part of the pitch. "Come and find rest."
As if to prove my point, Christian friends and family have recently been circulating around versions of Steve Martin's "Atheists Ain't Got No Songs" - which, let me just add, I do find funny.
(But you remember why the funniest jokes are so funny, right Guys? It's 'cause they're true.)
So why are Christians still talking about atheists' "volitional reasons"? We'll talk about it next post.