Critiquing "I Don't Have Enough Faith to Be an Atheist" (Ch1 Conclusion)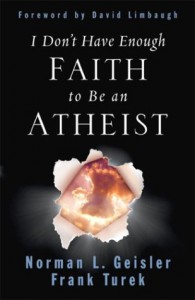 Pages 42-43 of I Don't Have Enough Faith... comprise an anecdote from Norman Geisler's time in the "Evangelism Explosion" program.
You may be familiar with "EE". It's a very popular training course for Christians, meant to teach them how to effectively evangelize neighbors, coworkers, and everyone else. Some of the high school students I taught in South Korea even enrolled in it and showed up at my apartment one night to practice. Not that I knew that was why they'd come. No, it took me a good five bewildering minutes to realize they were sticking to a prepared script as we talked. After which, of course, I started messing with them by replying in ways I knew their script didn't anticipate. But I digress.
I'm not a fan of EE or other systematic evangelizing strategies. I wasn't one before I lost my faith, either. My strong distaste for them originates from my brief career as a vacuum salesman after high school. Six days a week I would go to someone's house and use my presentation - one provided me by the company but which after a certain period I adapted to my own style - to convince them they should make a decision that very day to buy a $2500 appliance. And believe it or not, just prior to my early retirement from the business, I was succeeding in two out of every three households.
That's how truly vulnerable people are to bad ideas, even ones easily answerable. Most of us aren't naturally quick on their feet, haven't spent a lot of time training ourselves to think critically (much less debate the finer points of our ideas at a moment's notice), and find face-to-face discussion of a contentious issue very intimidating. Easy prey for a strong and prepared personality.
So when I read Norman Geisler's account in I Don't Have Enough Faith to Be an Atheist of how easily he evangelized a man named Don, I don't find myself impressed. I just shake my head and feel sorry for the guy who was watching TV or eating his dinner.
But to the anecdote itself. I won't get into the question of whether Geisler's justification for God's judgment is valid. That topic yawns before me like a black hole; I know if I come close to its edges I will be sucked into a vortex of points unrelated to this chapter from which this series may never emerge.
Nor will I remark once more upon his nonsensical deployment of the Road Runner Tactic (TM). That's been adequately covered.
Let's just join the conversation at the bit where Don tells Geisler he (Don) doesn't believe in God.
"Well, are you absolutely sure there is no God?" I asked him.

"He paused, and said, "Well, no, I'm not absolutely sure. I guess it's possible there might be a God."

"So you're not really an atheist, then - you're an agnostic," I informed him, "because an atheist says 'I know there is no God,' and an agnostic says 'I don't know whether there is a God."
This is pretty clearly unfair. All Don does is admit the possibility he could be mistaken in his beliefs. That's no more than Geisler and Turek themselves do on page 25. Quoth they:
Whatever we've concluded about the existence of God, it's always possible that the opposite conclusion is true.
Does that make Geisler & Turek agnostics? Of course not. Geisler and Turek are just admitting... well, exactly what Kant was trying to prove, ironically: that there's always a chance you're wrong because there's always a chance you've received imperfect data. They were right to say so and aren't alone among Christians in believing it. Here's what my fellow Minor Thoughts blogger wrote not too long ago, paraphrasing content from In Search of A Confident Faith:
The first philosophical aspect of faith is that beliefs are not binary. It's not true that you either believe something completely or disagree with it entirely. Beliefs are expressed in degrees of confidence. You can either believe something (51-100%) confidence, disbelieve something (0-49% confidence) or be completely counterbalanced (50% confidence or no confidence either way). This is true of everything in our lives, not just religion.

For instance, I'm 90% confident that Republicans will retake the House this year — I believe it. I'm only 40% confident that Republicans will retake the Senate — I disbelieve it. You can see that it would take a lot to change my belief about the outcome of the House elections but only a comparatively little to change my belief about the outcome of the Senate elections.

For a Christian, it's possible to believe in God with only a 51% or 55% confidence. You would believe, but your faith wouldn't be very strong. You would be constantly reevaluating your beliefs and seeking new evidence to either increase or reverse your existing beliefs. This is important because it indicates that the presence of doubt is not fatal.
All our beliefs are based on data that is at least questionable. So as Kyle over at ExChristian.net writes in his own rebuttal to I Don't Have Enough Faith to Be an Atheist:
"By [Geisler's and Turek's] definition, an agnostic is one who has the integrity and intellectual honesty to admit that he is not absolutely sure about the existence of God. Being agnostic, then, is a good thing. Anyone can be agnostic, no matter what conclusions he has drawn. You have drawn the conclusion that God exists, and because you also believe in Jesus, you correctly call yourself a Christian. I have drawn the opposite conclusion, and I correctly call myself an atheist. Yet we are both agnostic, too; we both admit the possibility, no matter how remote we think it is, that our conclusions are wrong. So you are an agnostic Christian and I am an agnostic atheist."
Couldn't have said it better myself.
... Which is why I quoted him.
CONCLUDING CHAPTER 1: THE APPLICABILITY OF AGNOSTICISM
In the spirit of the agnostic, allow me to note that it's possible I am wrong about all of this.
Geisler and Turek's main problem with the agnostic's philosophy - and the reason why they spend two chapters trying to debunk it - is their perception that its adherents use it to abdicate responsibility. As they write on page 32, "there's a big difference between being open-minded and being empty-minded."
Geisler and Turek aren't wrong here. A lot of self-described agnostics, when it comes to larger questions about the universe, do tend to punt in a way they never would when it comes to other issues. They use the incompleteness of their data as an excuse not to think.
However - and here I think that if Geisler and Turek were to read what I'm about to write, they would nod their heads - their position is a sham. You can be a close-minded Christian or a close-minded atheist or an open-minded (read: agnostic) Christian or an open-minded atheist or a close-minded Buddhist etc., but you can't be simply an unhyphenated agnostic. It's functionally impossible.
Imagine a general is faced with a battlefield shrouded in an impenetrable fog. He has no way of knowing what's inside of it. Regardless, he must decide on a plan and implement it, for the alternative is paralysis. Just so, one must base one's behavior in life on some rudimentary idea about Heaven and Earth, using the data available, however imperfect. So if a self-described agnostic is living as if no god exists which plans to punish him for his sins, I submit to you that agnostic has already judged for himself what the more likely answers are to his questions.
Thus Kant and other agnostics don't really pose a threat to the Christian world view. They only impose a certain level of humility upon us all as we decipher for ourselves the reality around us, using the faculties with which we are armed.
Despite the Christian's consistent call for humility in all things - I've gotten finger-wagging from a lot of Christians already for being too self-confident in my denunciations of Geisler and Turek - this particular need for meekness drives a lot of them mad. I attribute that to a number of "volitional" reasons, myself. And what do you know? Looking at Chapter 2, I see those are what we'll be discussing on Wednesday.
Until then: Stay thirsty, my friends.