How was I supposed to know I should take a magazine with this cover seriously?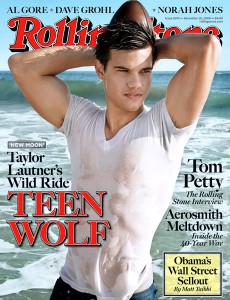 It's been a pretty big surprise to me that one of the few magazines out there still interested in shedding some real light on how things work today in Washington D.C. is RollingStone. I mean, yeah, they were cool enough to print stuff from P.J. O'Rourke, but those were basically humor columns. Yet take a look to the right of Taylor Lautner's drenched abs on the above cover, for instance, and you'll note a small yellow caption reading "Obama's Wall Street Sellout, by Matt Taibbi". It's an understated advertisement for the latest gold from the rag's very skilled and utterly furious staff writer on politics.
His latest (June issue) story is entitled "Wall Street War". I'm ordering you to read it for free here on RollingStone's website, because it's as well-researched and well-written an article as I can imagine on the issue of financial reform and how our so-called representatives have turned betraying their constituents into an outright art form. This is really the sort of hard-hitting, truth-to-power stuff all major journalists should at least try to write.
The only criticism I have of the piece is its lackluster concluding paragraph. What Taibbi wrote to summarize "Wall Street War" doesn't hold a candle to the flourished finish he wrote for "The Great American Bubble Machine", his stellar article on the history of Goldman-Sachs.
It's not always easy to accept the reality of what we now routinely allow these people to get away with; there's a kind of collective denial that kicks in when a country goes through what America has gone through lately, when a people lose as much prestige and status as we have in the past few years. You can't really register the fact that you're no longer a citizen of a thriving first-world democracy, that you're no longer above getting robbed in broad daylight, because like an amputee, you can still sort of feel things that are no longer there.

But this is it. This is the world we live in now. And in this world, some of us have to play by the rules, while others get a note from the principal excusing them from homework till the end of time, plus 10 billion free dollars in a paper bag to buy lunch. It's a gangster state, running on gangster economics, and even prices can't be trusted anymore; there are hidden taxes in every buck you pay. And maybe we can't stop it, but we should at least know where it's all going.
I won't lie to you: to read words like these in a major magazine with a high circulation among my generation does my soul a world of good. In retrospect, maybe I should have realized that any magazine for adults willing to make the Jonas Bros. their monthly feature has be fearless, and now I'm wondering what I've been missing. Crazy as it seems, I'm also looking forward to what _ RollingStone_'s got next.
FURTHER READING: Matt Taibbi's smashing discussion of health care reform and American government, "Sick and Wrong: How Washington is screwing up health care reform — and why it may take a revolt to fix it."